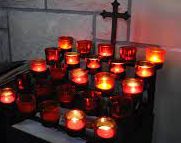 All Saints Day & Memorial Mass
All Saints Day is November 1. Since it is a Monday this year, it is not a Holy Day of Obligation. However, we will still have a special Mass at 9:00am.
Our Memorial Mass, for those who have lost a loved one this year, will be Saturday, November 13 at 9:00am.